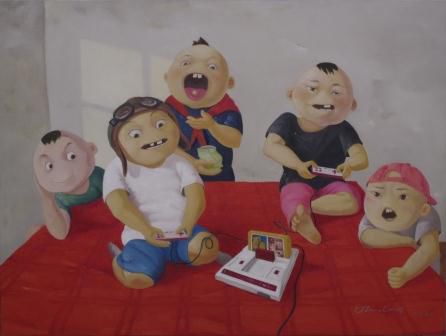 Zhang Jian Long
游戏十二- 坦克大战 (Game Twelve - Battle City)
Oil on Canvas
105 x 140 cm
USD 6,900.00

Add to cart
Save for later

We deliver worldwide


In a reflection of both his own childhood and countless others in his generation, Zhang Jian Long depicts a typical scene from the 90's of children caught up in their game. In 'Battle City,' a game played on a 16-bit console is depicted - the mother of many video games to come. With subsequent generations taking for granted the advancements in technology and state-of-the-art video games, Zhang shows us an earlier period of time when children were still awestruck and enraptured by the evolution of a game. Dressed in different outfits, with some playing whilst others watch and cheer them on, Zhang captures the essence of imagination and teamwork that prevailed in the minds of children before the prevalence of technology led to the construction of social barriers and increased isolation.