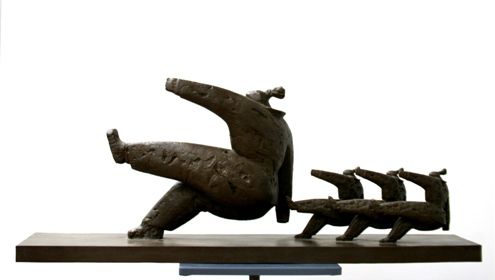 Wang Xing Gang
ally R1-Strive Forward
Edition 8 of 8
Bronze
51 x 26 x 130 cm

USD 16,800.00

Add to cart
Save for later

We deliver worldwide


Wang Xing Gang sculpts peasants, showcasing them as simple and plain individuals, as a reflection of the fast-moving progression of contemporary China. With thorough observation of Chinese society today, he comments on loss of individuality due to the constraints of work and personal life. His focus on the rural subjects of China causes his art style to be distinct from the trend of fellow contemporary artists focusing on modern Chinese themes. Wang is able to come up with an appropriate blend of both the contemporary and the ideal of the countryside in his sculptures, incorporating both factors in his sculptures. Having been born in Northeastern China, he bears sincere affection and understanding toward Chinese peasants. His practical experience and cultural consideration has ignited his awareness on negligence or oversight of those serious problems in the contemporary arts field. With this view, he chooses to shoulder this cultural responsibility, confines his vision to this field, and focuses on peasants who are overlooked by the tide of urbanization.