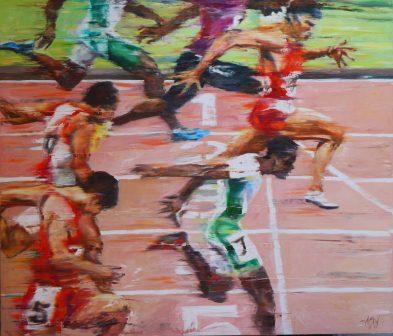 Aan Arif
(Sold) Sport l
Oil on Canvas
145 x 170 cm
USD 1,400.00

Add to cart
Save for later

We deliver worldwide


Csg00033 - The Expressionist style of Aan Arif is evident in Sport I, which reflects the excitement and elation of triumphant athletes as they rush past the finish line. In order to achieve a marginally blurry effect without compromising the coherence of the painting, Arif wipes paint to form textures on the surface of his canvas. This technique makes the athletes appear as if they are moving beyond the speed of light, such that the colours of their clothes and bodies trail in their wake. Despite the hazy visual effect applied to the painting, key aspects are still clear to the viewer. These include the strained limbs and extended fingers of the athletes as they lunge towards the finish line. This painting epitomises the essence of competitive sport - what is typically remembered after decades is not the specific people and objects that were present during an event, but the euphoria and incredible spirit of the moment.
His motion-blurred paintings are a distinctive part of his work, which he applies to paintings of crowds and sporting events.