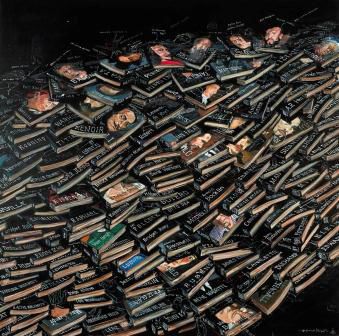 Gusmen
The Artists
Acrylic on Canvas
145 x 145 cm
Enquire

Add to cart
Save for later

We deliver worldwide


In this painting, Gusmen Heriadi gives his viewers a sea of books and renowned artists' names, leaving them in an initial state of confusion. Viewers have to look further and deeper into the painting to understand what Gusmen is trying to convey through his works - a message that all painters are equally as proficient and prized regardless of how recognized they might be. He uses a combination of both established and emerging artists in his painting, using them as titles of the books depicted. The clever use of books helps him to bring this message across as books represent a level of success the artists have attained by being published and recognized for the product of their artistic endeavors. He understands that sending this message across will be difficult and shows this by using dark tones in the painting to emphasize on the bleak nature of the situation at hand. He highlights that there will be resistance towards accepting this notion of recognizing budding talents in the field. Through the meticulous detail of his paintings, he invites us to celebrate the contribution of artists who have shaped disciplines of the humanities, and piques our interest in their lives as ordinary human beings who have done extraordinary work.
Most of his works are products of his dreams, his responses to life, and his philosophical views.