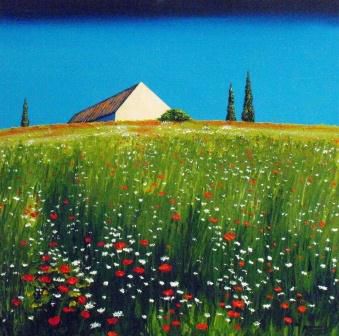 Ronnie Ford
Les Premieres Fleurs de l'Ete
Mixed Medium on Canvas
50 x 50 cm
SOLD
Ronnie Ford once again impresses with his ability to captivate his audience with this beautiful and soulful artwork. In this painting, Ford makes use of bold and vibrant colours to bring out the lushness of the landscape. The use of bright blue on the top half of the canvas, contrasted with bright green on the foreground, immediately catches one's eyes. Ford employs his technique of sculptural painting by incorporating the bright colours on the foreground, creating a perspective illusion that the flowers are indeed physically close while the subjects on the background are far and beyond reach. Ford uses vertical lines while painting the tall grass, directing his viewer's eyes from the foreground to the background where the isolated cottage is located. Ford is able to retain the spirit of the countryside landscape, allowing his audience to be transported into a meadow full of beautiful and lavish grass and flowers amidst which a cottage lies - possibly one's concept of an ideal vacation in the European suburbs.