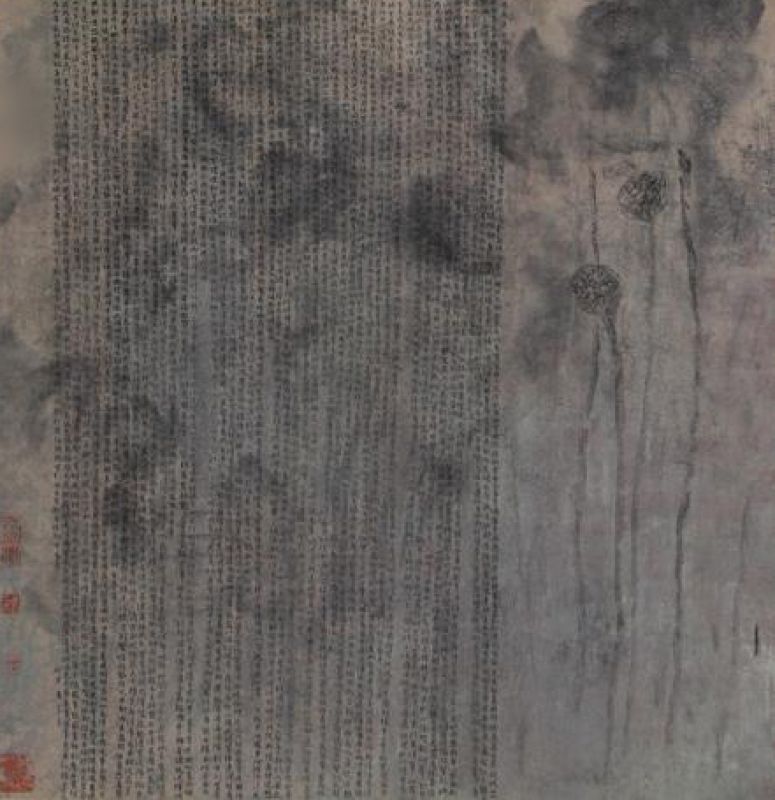 Hong Zhu An
Lotus in the Tranquility Lake, 2012
Ink on Paper
105 x 105 cm
USD 22,100.00

Add to cart
Save for later

We deliver worldwide


Words, like a waterfall, cascade down in intricate vertical streams, forming a translucent screen that masks the spectral motif of the lotuses - which are constructed by loose, emotive brush strokes. The lotus flower is a prominent icon in Chinese culture and Buddhism, signifying purity that is born out of mire and is a heavily featured image in Chinese ink paintings both ancient and contemporary. In this work, Hong uses a wet-on-wet technique resulting in soft, diffused lines that seem to be floating in a layer of mist. The text integrates itself into the flattened, two-dimensional plane, merging and becoming one with the landscape, alluding perhaps to the important process of achieving a tranquil, meditative state of mind. This work is part of Hong's more recent series of paintings, featuring an increase in the prominence of calligraphy and text.
He merges Eastern tradition and Western techniques in his paintings, often putting together Chinese characters that have no specific meaning.