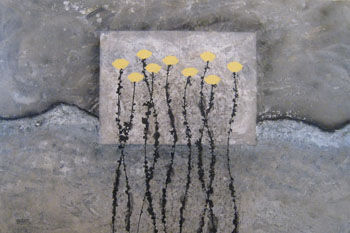 JEAN-FRANCOIS DEBONGNIE
Beautiful Mystery
Mixed Medium on Canvas
100 x 150 cm
USD 3,850.00

Add to cart
Save for later

We deliver worldwide


In this painting the artist uses the frame in frame composition to bring the viewer's attention to the splendid flowers. Their vibrant yellow colouring contrasts the muted grey in the background, while the distinct curved line that separates the shades of grey creates a peaceful visual rhythm that heightens the sense of tranquility and calm. The long winding stems of the flowers transcend the boundary of the various frames, and are mesmerizingly ethereal. Debongie's masterful techniques and arrangement highlight his skill as an artist, as well as his ability to balance Eastern and Western influences in his floral presentations.