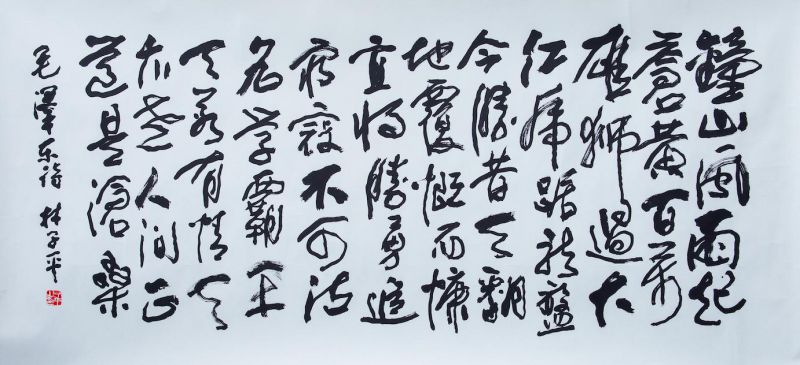 Lim Tze Peng
七律·人民解放军占领南京 - 毛泽东 - The People's Liberation Army Captures Nanjing by Mao Zedong
94 x 210 cm

SOLD
钟山风雨起苍黄, 百万雄师过大江。 虎距龙盘今胜昔, 天翻地覆慨而慷。 宜将剩勇追穷寇, 不可沽名学霸王。 天若有情天亦老, 人间正道是沧桑。 The poem above titled 人民解放军占领南京 or The People's Liberation Army Captures Nanjing was written by Mao Zedong in April 1949. Translated, it reads: Over Zhongshan swept a storm - our mighty army, a million strong, has crossed the Great River. The city, a tiger crouching, a dragon curling, outshines its ancient glories. In heroic triumph, heaven and earth have been overturned. With power to spare we must pursue the tottering foe, and not be like Xiang Yu the conqueror seeking idle fame. Were Nature sentient, she too would pass from youth to old age. In the world of men, the correct path consists of great changes.
He pioneered with a breakthrough style in 2005, called 'hutuzi' or muddled calligraphy - a melding of painting and calligraphy.