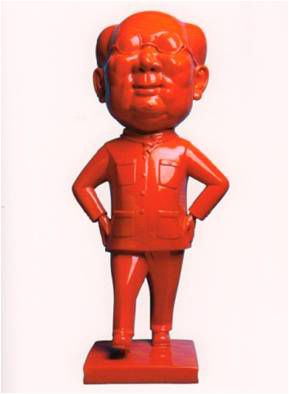 Ren Si Hong
Broadcast Exercise - Kicking Action, 2006
Edition 5 of 6
Bronze Painted Red
App.Height:110cm cm

USD 28,100.00

Add to cart
Save for later

We deliver worldwide


Ren Si Hong's sculptures have an absurdist quality to them and tend to depict Mao Zedong in various comical positions, in a manner that is obvious caricature. In this work Mao is shown to have an exaggerated head, likely a reference to his inordinate amount of power and influence during his reign. Yet Mao is rendered naked, placing him in a state of vulnerability with his intimate areas exposed, an unexpected depiction of a political figure. Ren's satirical expressions of Mao is a form of exorcism of that past, a means to secularise a god, and he sculpts with boldness of idea and thought.
He translates the propaganda of Mao's speeches and publicity into art in, infusing it with his own humor.