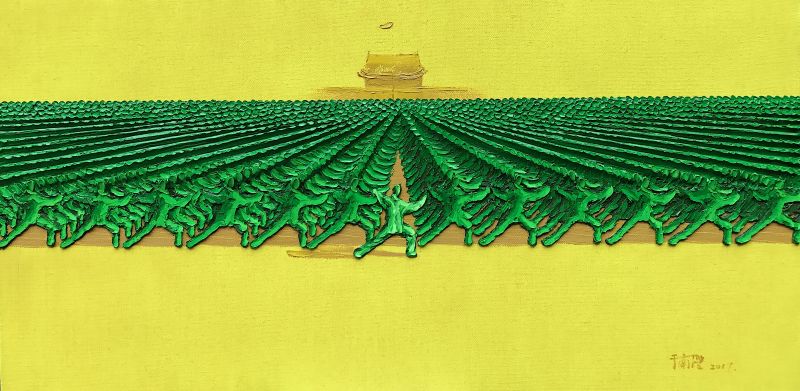 Yu Nancheng
中华太极之提手Tai Chi Lift Hands (黄色绿色那张), 2017
Oil on Canvas
80 x 160 cm
Enquire

Add to cart
Save for later

We deliver worldwide


Yu Nancheng (Fish), a professional artist, was born in Changzhou, Jiangsu Province in 1956 and currently lives in Shanghai. Yu is known to local and Western art collectors alike as "Fish", because of the resemblance of his family name to the word for fish (鱼 yú) in Mandarin. He studied painting early in his childhood and has been engaged in art creation for up to 40 years. In the last few years he broke new ground in the field of oil painting by his original artistic style. PAINTING TECHNIQUE : The oil is painted layer by layer.Using traditional "Chinese Red" as the main element of the expression_r of the artistic subjects——combined with different somewhat misty and faraway temporal and special backgrounds, thus presenting powerful visual impact, warmth, ardor and lasting aftertaste, drawing the admirer into their dynamic vitality. ARTWORKS : Nowadays there are gorgeous series in works of "Taichi", "New Shanghai", "the Quintessence of Chinese Culture", "Dancers" and "Flowers" as well. His work has been exhibited across China and collected at home and abroad, including by various art institutions and by professional art collectors in different regions and countries, such as the U.S.A, U.K., Germany, Belgium, Switzerland, France, Japan and Middle East. He has been interviewed several times in a special TV program "Show" by International Channel Shanghai (ICS), and widely reported in the mass media. His artworks have been exhibited at the Shanghai Art Fair in 2009 and 2010.