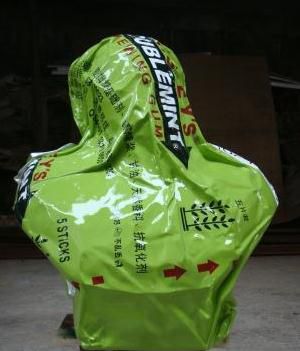 Jiao Xin Tao
Resurrection No. 2
Edition 1 of 4
Fiber Glass Resin
59 x 63 x 48 cm

Enquire

Add to cart
Save for later

We deliver worldwide


This series of Jiao Xin Tao's sculptures exhibits strong conceptual values as well as intense technical skills, perfecting the process of moulding and shaping. Jiao makes use of materials such as fiber glass, bronze, and marble to shape his sculptures, painting them to realistic lengths. This sculpture depicts a packet of Wrigley's gum, that has whimsically been shaped to appear like the bust of a person. With delicate hand work and precise execution of details, Jiang recontextualizes and redefines a seemingly trivial object to present it with dignity and value.
He personifies the objects we encounter in our lives, capturing their sadness and loneliness when we throw them away.