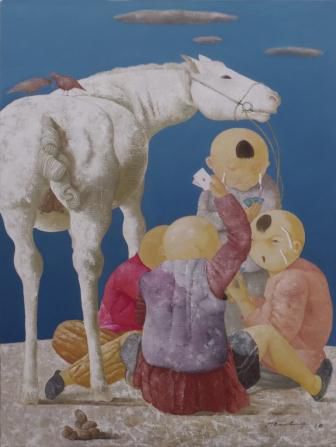 Zhang Jian Long
Playtime No. 9 - Papercards (游戏之九 - 纸牌)
Oil on Canvas
140 x 105 cm
USD 7,050.00

Add to cart
Save for later

We deliver worldwide


In Papercards, we see children engaged in a game of cards, with gestural displays of triumph and expressions of sadness and defeat captured in the same frame. A dual display of emotions in his pieces is the artist's trademark. He also tends to showcase a combination of animals and natural elements. In choosing his themes and selecting subject matter for his work, Zhang Jianlong emphasizes uniquely Chinese elements, drawing upon Chinese philosophy while enriching his methods of artistic expression by incorporating techniques reminiscent of traditional Chinese folk arts.