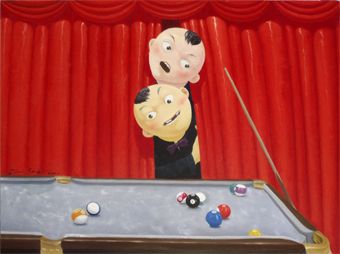 Zhang Jian Long
Playtime No. 13 - Games for Adults
Oil on Canvas
105 x 140 cm
USD 7,050.00

Add to cart
Save for later

We deliver worldwide


Zhang Jian Long is known not only for his laughing faces, but also his accurate portrayals of children transitioning into adulthood - referencing the flurry of emotions they encounter along the way. In this picture, we see two children peering into a room with a billiards table - an 'adult' game that represents the world of grown-ups. One child's face shows excitement whilst the other exhibits reluctance, fear and revulsion. These expressions reflect the differences between the world of children and adults and the wavering emotions that movement into phases of maturity can bring.