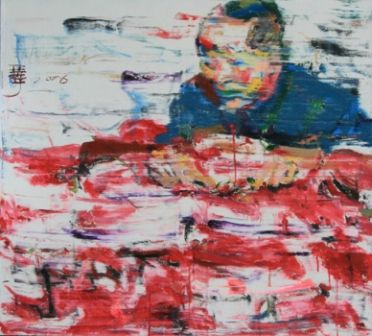 Ren Zhen Yu
Another Portrait No. 11, 2007
Oil on Canvas
90 x 100 cm
USD 14,050.00

Add to cart
Save for later

We deliver worldwide


Ren Zhen Yu's skilful technique involves the use of textures, thick layers of paint trails and splatters, spontaneous patterns and dynamic movement - all of which transform into the depiction of a realistic figure by expanding the space that the form exists in. In Another Portrait No. 11, he expresses movement in a frozen frame - time is suspended and the surface of the canvas becomes a vivid representation of layers of the past accumulated on top of each other. The artist unleashes a flurry of brushstrokes, which allow the figure to dissolve in and out of the space. With the loss of defined characteristics, Ren freely communicates a feeling, expression and thought.
He references political changes in China in the post-Mao era in his work, as well as the need to remember the past.