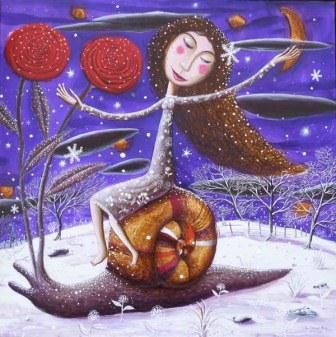 Christian Pendelio
On the Fertile Snail
Oil on Canvas
120 x 120 cm
USD 8,000.00

Add to cart
Save for later

We deliver worldwide


A girl sits on a moving snail, while touching both a beautiful red rose and the crescent moon in the sky. The dress she wears is decorated with flowers, symbolising her fertility. This theme is furthered by the snail, an animal that is continually in close contact with the fertile earth. This poetic work thus depicts man to be the grounding force and link between the infinitesimal and the infinitely big. Pendelio's magical works are filled with symbolic representations, which provide a base for the viewer's imagination to freely expand upon.