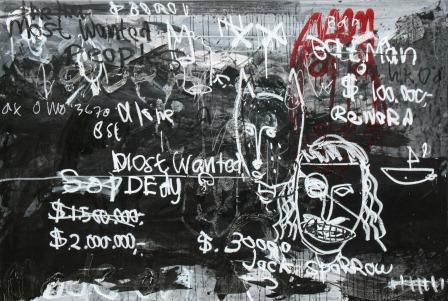 Dedy Sufriadi
Most Wanted, 2013
Acrylic, Oilbar, Permanent Pen On Canvas
100 x 150 cm
Enquire

Add to cart
Save for later

We deliver worldwide


Exploring society's containment and quickness to judge, Dedy puts forth the image of a 'most wanted' man, with his ransom of claim. Provocative in thought, the piece forces the viewer to question his personal judgment on character and the idea of putting a price to a man's head. The piece contains mainly black and white which subconsciously reminds the viewer of a prison cell, with the red stroke signifying violence or even bloodshed. The figure depicted in unaesthetic and aggressive in appearance, bringing to mind once again, the typecasting of society and how we would envision someone who would be on a 'most wanted'. Much inquisitive thought is brought to mind with this depiction, bringing an individuals social judgements to question.