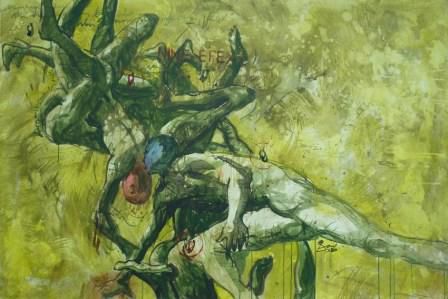 Acil
Nine Spirits, 2010
Oil on Canvas
100 x 150 cm
USD 750.00

Add to cart
Save for later

We deliver worldwide


"Nine Spirits" is part of Acil's fourth series of works. It address desires and values that are inherent in contemporary society, with the intermingling of bodies symbolising the unavoidable connections with each other. The number nine relates to achievement and represents development of life. As it is the last simple number, it also signifies an end goal or final conclusion. In this painting, the quest for achievement necessitates interacting with and surpassing others to reach the top. It shows conflict and tension in a surreal context, with bodies floating and falling in luminous space .
With a touch of surrealism, humans merging with machines and distorted dreams run free in his paintings.